The School & Nursery Show
Register your child & receive AED 525 application waiver*
Take your first step towards an IB-through education
Reggio inspired programme for children aged 2 and 3 years

Leading into an outstanding IB programme from age 3.

Full day programme from 8:00am - 3:00pm, with an optional early pick up of 1:15pm
Enrolments now open for 2022/23
Full facilities specifically designed for early learners
Reggio inspired Nursey

Our Nursery is located within our Early Childhood spaces, with full facilities specifically designed for early learners. Our campus allows families with 2–3-year-old children to join the GEMS World Academy - Dubai family and enjoy both the benefits and experience of a small school within a big school.

Supporting each child's needs

At the age of 3, we offer choice. Your child may need The GEMS World Academy - Dubai Nursery if they require diaper changes and support in toilet training. If your child is ready for rigor and shows a greater level of independence, then they are ready for the IB Pre- Kindergarten Programme.

Primary Years Programme

GEMS World Academy Dubai is an IB World Academy which delivers the IB Primary Years Programme (PYP). The PYP provides a holistic approach to curriculum design and places the child at the centre of the learning process to meet the personal, social, emotional and physical needs of the whole child.
The GEMS World Academy - Dubai Early Learner Options
Primary Years Programme (PYP)
Monday - Thursday 08:00 – 15:00, with an optional early release of 13:15
Bus Service at 15:00
Friday 07:30 - 12:00 noon

AED 65,747

Flex day rates available
The GEMS World Academy - Dubai Nursery
Reggio-inspired

Monday - Thursday:08:00 – 15:00, with an optional early release of 13:15
Bus Service at 15:00
Friday: 07:30 - 12:00 noon
Diaper change & toilet training

AED 40,000

Flex day rates available
Tuition Fees
Include all resources and clinic fees: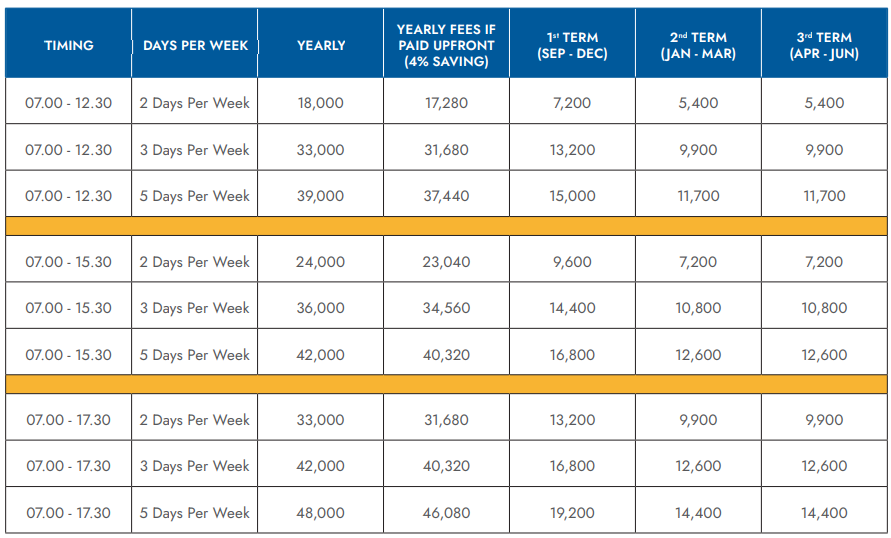 *Offer valid for new enrolments for 2022-2023